Activate Windows 10 without using any software for free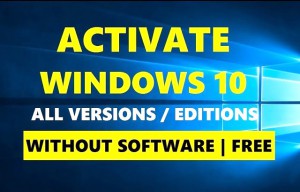 ---
How to Activate Windows 10 without using any software?
If You have annoying watermark in bottom right part of screen like : "Activate windows Go to the settings to activate Windows" or something like this
or you  can`t customize look of your windows system or you have problems with updates you need to activate you`r Windows 10.
Windows 10 has a lot of benefits:
 Its the latest and greatest update of all the windows editions. Even critically acclaimed;
 From gaming perspective, its got directx 12, which promises high frame rates with future games;
The UI has been redesigned and brings significant improvements in functionality and usability;
The metro/modern apps are redesigned to be comfortable using with mouse and keyboard. Another major improvement is touch screen functionality;
For windows phone users, better integration with the OS, like seeing the missed calls from mobile, sending text from mobile using windows 10 and lots more;
Cortana,  a virtual personal assistant has made her way to the OS, she can be very useful;
General stability and performance has been greatly increased;
Lots of modern/mobile apps like twitter, fb, etc in   windows store;
With windows 10, most of the drivers will automatically updated by the OS itself, gone are the days when we used to search drivers of the hardware manually. But still some drivers have to be updated manually;
New browser called Microsoft Edge is introduced;
Virtual desktops is introduced;
Significant improvement in gaming – especially the frame rates have improved;
Of all the benefits of Windows 10, none is more immediate than an improvement in operating speed;
Finally, Windows 10 also keeps up major improvements in security. Security additions with Windows 10 make the Secure Boot feature tamper-proof. Along with Secure Boot, Windows 10 also adds key security features such as Device Guard, Microsoft Passport and Windows Hello;
So if you want to get full functional of your operation system – YOU NEED TO activate your Windows !
AND here new easy way – this method will help you to activate your Windows 10 with no headache.
With this method you can activate:
Windows 10 Home;
Windows 10 Home N;
Windows 10 Home Single Language;
Windows 10 Home Country Specific;
Windows 10 Professional;
Windows 10 Professional N;
Windows 10 Education;
Windows 10 Education N;
Windows 10 Enterprise;
Windows 10 Enterprise N;
 Here is instruction how to activate windows 10:
Download windows10active.zip;
 Do you want to download windows10active.zip right now?
Wait a minute;
Enjoy your Windows 10;
Videotutorial:
Screenshot of activated Windows 10 with using our instruction:
Alternative instruction:
Download windows10active.zip;
 Do you want to download windows10active.zip right now?